Ova prilično obična fotografija prikazuje sve, samo ne običan trenutak u mom životu. Trenutak i osećanje koje jos uvek živo pamtim.
Nakon tri i po godine rada, fokusirana samo na jedan veliki projekat, jedan veliki cilj. Nakon tri intenzivne nedelje neprekidnog, danonoćnog pisanja i editovanja, koji su prošli dok trepneš okom. Nakon 24 neprospavana sata formatovanja, ispravki, štampanja i uvezivanja, kada je sve što je moglo pošlo naopako u poslednjem trenutku. Uspela sam. Noć je bila topla i lepljiva za mart i slavuji su cvrkutali, dok sam se vozila biciklom iz kancelarije u 5 sati ujutro, kroz predgrađe Berlina utonulo u san. Odspavala sam sat vremena pre odlaska u fakultetsku službu sa postdiplomce (koja radi samo dva sata dnevno, dva dana u nedelji i da, naravno da je ovo bio poslednji mogući dan za ovaj zadatak). I predala sam moj doktorat. Nisu falile strane, nije bilo mrlja od mastila ili krive štampe; javni prevoz nije kolabirao, nije pukla guma na biciklu, nije mi falio jedan papir ili da sam neki formular pogrešno popunila. Zaista sam uspela.
Čoveče, što je to bio čudan osećaj. Ipak čovek ne postigne tako nešto svakog dana. Ali bila je to tako obična stvar, odneti papire u neku kancelariju i otići bez njih. Bez fanfara da obeleže da si ipak u nečemu važnom uspeo.
Još stvari je ostalo da se završi, ali osećaj je bio kao da se, ono što sam osećala kao breme celog sveta, naglo podiglo sa mojih ramena. Šetala sam kroz botaničku baštu, još jedno mesto gde sam radila, dok sam razgovarala sa roditeljama preko telefona. Kada smo završili razgovor, osvrnula sam se oko sebe. Sunce se krilo iza oblaka i slabašno je duvao osvežavajući vetrić. I kišne kapi visile su sa borovih iglica kao mali biseri. Nasmešila sam se.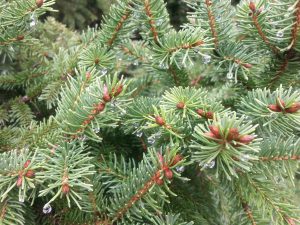 Shvatila sam da uopšte nisam mogla da se setim kakvo je vreme bilo prethodnih nedelja, prosto ga nisam ni primetila. Fokusirana na jednu stvar i potpuno uronjena u misli, prolazila sam pored ovakvih malih čuda, propuštajući lepe stvari koje su me okruživale svakog dana.
Ponekad zaboravimo da primetimo lepe trenutke dok jurimo za snovima. A ponekad je potreban samo jedan takav trenutak da nas na to podseti. Lepota je u malim stvarima koje nas okružuju, svakoga dana. Otvorimo um i oči i dopustimo im da nam izmame osmeh.
Za više lepih trenutaka pogledajte Galeriju.